Crowdfunding in India (part 1): Catapooolt How to involve the corporate world and angel investors in the world of crowdfunding.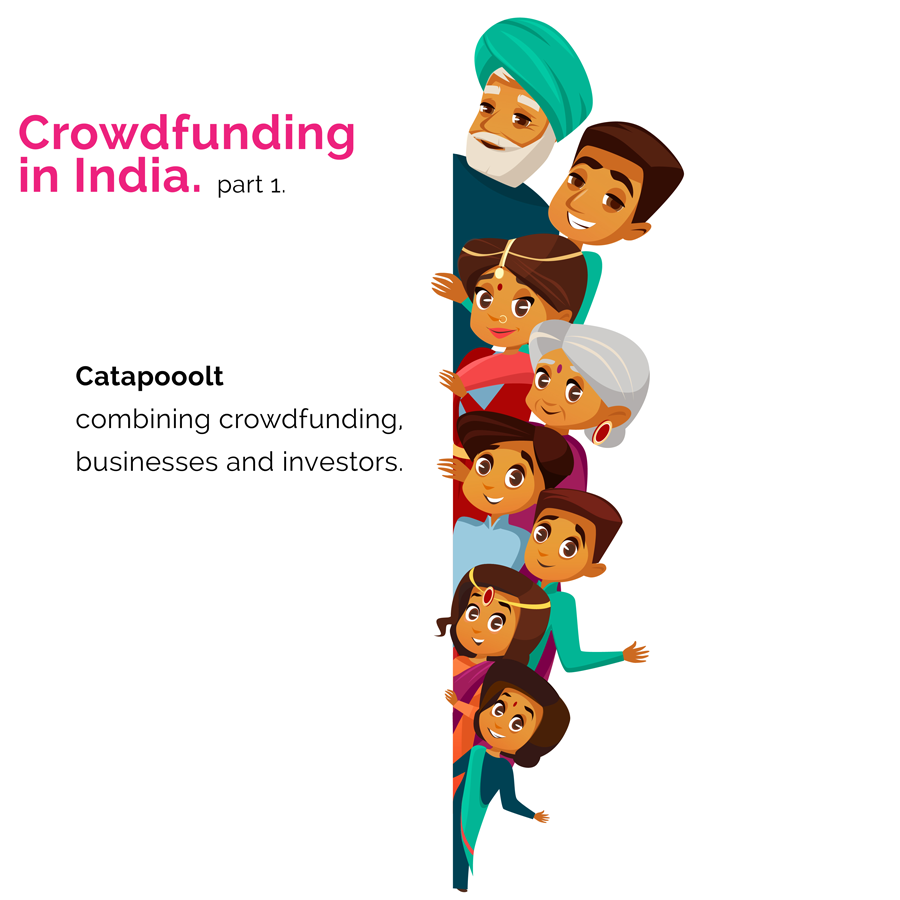 In India there are several big crowdfunding platforms. One of them is Catapooolt. Catapooolt is a special platform, since it can teach us how to combine crowdfunding with the corporate world. When I was in Mumbai I got the chance to have a meeting with founder and CEO Satish Kataria to discuss crowdfunding in India.
Catapooolt uses a so-called hybrid model; where companies and angel investors invest in start-ups behind the scenes too. I was curious about how it worked.
Not only do they bring start-ups to life, they also know how to interest the corporate world to invest in start-ups and to implement crowdfunding in their business model.
Coincidence!
It happened to be that on my way to my appointment with Satish I got stuck in a fully packed bus, with, next to me, an American musician who grew up in India. We got into a conversation and he told me he had actually placed a campaign on this crowdfunding platform! Very weird, such a coincidence. His campaign was in the early-days of the platform when crowdfunding wasn't that well known. Actually, everything that could go wrong went wrong with their campaign: they thought too much that a platform was a magic box and that the target amount would get reached just by placing the campaign on the platform. And since crowdfunding wasn't that well known at that time in India, their target amount wasn't reached. Luckily for them it was a flexible-campaign, meaning they could keep all the received donations (though unfortunately these were paid months after their planned festival!).  Anyhow, it didn't affect him that much, since this international music festival is still expanding every year.
Satish laughs about this story, when I finally arrive in their creative building after a one-hour drive from the centre of Mumbai to the west. A big Angry Bird is watching me in their brainstorm room. Satish tells me that they want to empower people through their platform to new communities. But that it is also important for the crowdfunder to have its own crowd already and people to reach too. "Social-active", is what Satish calls it. "There should be input from both sides." –These days they focus more on start-ups, instead.

What kind of platform is Catapooolt?
"Catapooolt is a brand-associated platform. We combine crowdfunding, businesses and angel investors," Satish explains to me. "So start-ups can use crowdfunding to raise an x-amount of money. And more of the amount is coming in via the angel investors. We have many contacts with investors, since I have a financial background.
We try to combine crowdfunding with crowdsourcing as well. Crowdsourcing means that people can ask for other things besides funding along their campaign. For example, the crowdfunder of a book can also ask for an illustrator to help them. This combination of crowdfunding, crowdsourcing and investing is what we call a hybrid-model. We are always looking for collaborations."
How do you involve the corporate world with the start-ups?
You told me your platform tries to make a bridge between the corporate world and start-ups. How do you connect those parties? "Behind the scenes we connect start-ups with angel investors in our network." To reach this, Catapooolt organizes  CrowdPitch and ProductCzars; offline events to connect crowdfunders with investors (red.).
"Also we make use of brand-associated crowdfunding. By that I mean we connect companies to projects, by letting them add incentives to invest in a campaign (advertisement red.). When people invest in a project they can also get discounts on a product of an existing company. For example, a voucher to test a television subscription for free for one month (match-funding red.)."
To me this approach seemed like an interesting way of using the platform as a commercial channel, which can be interesting for companies and the crowdfunder as well, depending on how you use it. The American musician in the bus wasn't that happy with this system. He told me the commercials of Flipkart and the Domino's coupons around his campaign didn't fit his project. "It had totally nothing to do with our festival. It doesn't help to create an involved community if people buy products off other companies just to get a discount." A good point and something they seemed to have worked on after.
Why crowdfunding?
"Why crowdfunding? I have been working with start-ups and I realized there is a huge gap between start-ups here and in Silicon Valley. So I thought how can more and more people get involved in a financial ecosystem. With crowdfunding your risk gets spread. So if we asked more people to invest, the risk for the investors is less. This gives an opportunity to bring more Indian projects to life.  It helps others to try out something."
Crowdfunding in India: combining online with offline
Some people told me crowdfunding works different here compared to how it works in more Western countries. Is that true? "Here in India, people want to be part of a movement, to be part of start-ups. Especially, the young generation want their independency and they seek fulfilment outside their professional jobs. And crowdfunding in India is not new. We always have been collecting small funds, for example, for organizing village parties. But the online part is new. So, the mentality of crowdfunding fits here very well, but in India creating an offline community is as important as online. There is not a problem with people being supportive, though there is still a lack of awareness. To reach communities we need to work offline a lot."
Satish gave me interesting insights. I believe there are a lot of opportunities and possibilities to strengthen the crowdfunding field in the Netherlands too. We can make better connections between corporations, crowdfunders, investors and universities. At TapToo we can help to work on your ideas and to discuss new connections.
Would you like to discuss solutions for your company? Feel welcome to contact!
Read here more experiences about crowdfunding in India >
Read also:
https://www.taptoo.nl/wp-content/uploads/crowdfunding-India-2.png
900
900
Annelies Lesuis
https://www.taptoo.nl/wp-content/uploads/TapToo-logo.png
Annelies Lesuis
2017-11-06 13:51:01
2018-07-02 13:09:22
Crowdfunding in India (part 1): Catapooolt How to involve the corporate world and angel investors in the world of crowdfunding.